Introducing the Ultimate Dell-Compatible Drive Caddy
---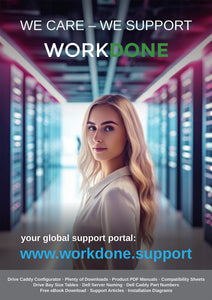 Portal is Open!
Experience smooth and effortless installation and configuration of drives on PowerEdge servers with WORKDONE. Say goodbye to compatibility issues, time losses, and headaches.
The new support portal is now open!
Our reliable support solutions ensure a hassle-free setup, allowing you to focus on what truly matters – your success today. Get the job done right with WORKDONE.
VISIT NOW
Read more
---
Fortunately, checking the size of your server's hard drive bay is a relatively simple process. As a server administrator, one of the most important things you need to know is the...
With so many different server models, who has time to be an expert on all of them? There are fifteen generations of Dell servers, and approximately 265 individual server models....
You've Installed Dell PERC RAID, But the Controller Can't See and Use the Installed Hard Drives! This issue can cause support workers to grow a lot of gray hairs. Everything...